zFont 3.1.0 APK Change Font Style, Font Colors & Emoji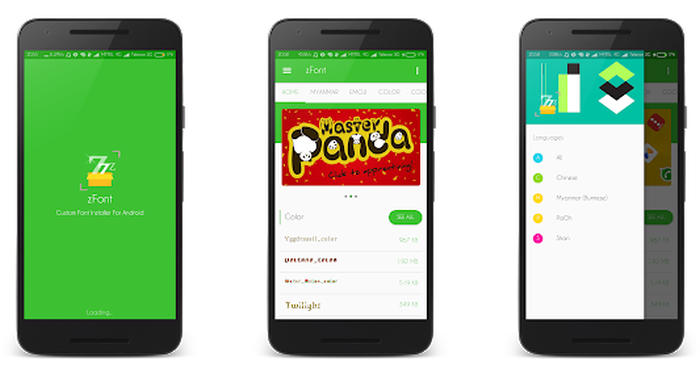 zFont is a special application for Android users who want to change the font style for OPPO, Samsung, Vivo, Huawei, Xiaomi, Tecno and Infinix to make it look even more unique and attractive.
The zFont application can be used on almost all Android devices, this all one font changer application is the easiest solution for those who have difficulty changing the appearance of fonts on an Android phone.
In the past, we only know the iFont application that can change fonts on Android, since the Android update, this application has become increasingly difficult for us to use to change the font style.
Compatible Phones
And now the zFont application has arrived which allows us to change fonts on several Android phones such as Samsung, OPPO, Infinix, Realme, Vivo, Tecno, Huawei and Xiaomi.
SAMSUNG
– KitKat and below
– Lollipop (5.0 to 5.1.1)
– Marshmallow (6.0 to 6.0.1)
– Nougat (7.0 to 7.1.2)
– Oreo & upper (8.0++)
– Samsung Android 9, 10, 11
– Samsung OneUI 1, 2, 3
Xiaomi
– MIUI Version 7 to 12.
Vivo
– Vivo Android 5.1 Lollipop to Android 10 Funtouch 9.
Oppo
– Oppo dari ColorOS 2.1 to ColorOS 7.
Realme
– Realme with RealmeUI.
Huawei
– Huawei EMUI 2.3 to EMUI 11.
Tecno & Inifinix
– Infinix, Tecno, iTel With XOS.
Download the Zfont APK application
Here I provide links to various versions of zFont, a recommendation to use the play store version because it is always updated. For phones that don't have the Play Store, please download version 3.1.0 or version 2.1.8.
How to Use the zFont Application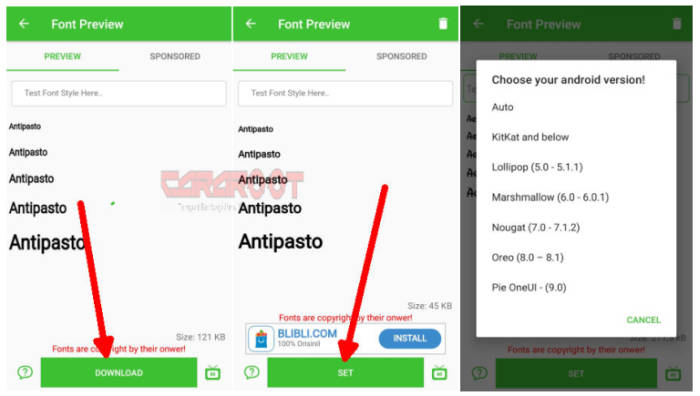 Its use is also very easy, without the need to root to be able to change fonts and emojis via zFont. Here's a guide on how to install and apply a custom font.
Download the zFont installer application above then install the zfont.apk file.
Open zFont, you will see various options such as Colors for color fonts, Emoji for adding emoji on the keyboard and Cool or Stylish which contains various types of unique fonts.
You choose Stylish from above. There you can see various font models that are compatible with your phone.
Please select the font according to taste then tap the Download button.
After successfully downloading, you tap the Set button.
Next will appear options for Font Changing models such as Samsung, Xiaomi (MIUI), Huawei (EMUI), Vivo (Funtouch OS), Oppo and Realme.
You choose according to the Android phone used.
After the font is installed, you open the Theme Store and select the font style from the zFont.
Pros And Cons of Zfont App
Behind the advantages there are definitely drawbacks, here are some of the advantages and disadvantages of the zFont application that I have felt so far.
1. Pros
This application was developed by Mg Ngoe Lay and currently there are quite a lot of positive comments from its users on the Play Store. The advantage of this application is that it provides many types of font styles and emojis, this application is the best alternative to adding a font style besides the Theme Store.
2. Disadvantages
While the negative response from users is mostly advertisements, but in my opinion it is still within reasonable limits, especially since this application is still relatively new, which requires energy, time and server rental costs which are not cheap to store font files.